We will make your dream bedroom, reality
Over many years of experience, Hush Bedrooms have honed in their wealth of knowledge to provide customers with unrivalled quality, elegant beds, furniture and fitted bedrooms. Our vision is to make your dream bedroom a reality, so we offer an extensive range of customisable bedroom furniture where you can pick and choose the style of almost everything from handles to mirror and panel finishes.
At Hush Bedrooms, we offer an outstanding free of charge bedroom design service! Our team will discuss the colour scheme and features you want to include in your fitted bedrooms down to the very last detail and the render your new room in glorious HD in the exact range and colour you have picked so you can see the finished product. At this stage is the perfect time to make any tweaks and alterations to create the perfect fitted bedroom you imagined right in front of your very eyes. Don't just take our word for it come and try it out today!

Because we're so confident in the quality of everything that we do, all of our fitted wardrobes carry a manufactures 10 year guarantee. Simply register and enjoy your new bedroom for years to come. Email us if you have any queries.

Our free of charge bedroom design service leaves nothing to the imagination! We render your new room in glorious HD in the exact range and colour you have picked. Don't just take our word for it come and try it out today!

We would never trust just anyone with your installation. All our fitters are experienced carpenters directly employed by us. They have been trained by our suppliers to ensure they know every detail about the product.
Take a look at our different ranges
We pride ourselves on being able to offer an extensive range of different fitted bedrooms across Birmingham to suit almost everyone's individual style. Hush Bedroom has everything from natural, light and warm contemporary design of the Milan to the fully customisable Moda range including 11 stunning fascia finishes and 3 texture finishes to choose from. View our range here!
If you love timeless sophistication then Bosworth is the range for you. Available in a choice of ten finishes this range will work in any room. In Odessa Oak, Bosworth takes on a deep rustic look. Add a fabric of your choice behind the glazed linen press doors to further compliment this stylish range.
Bosworth is a classic English bedroom design that would grace any home. In textured white avola this natural 'washed look' creates a calming and neutral environment, perfect for relaxing. Bosworth is complimented with an iron effect handle.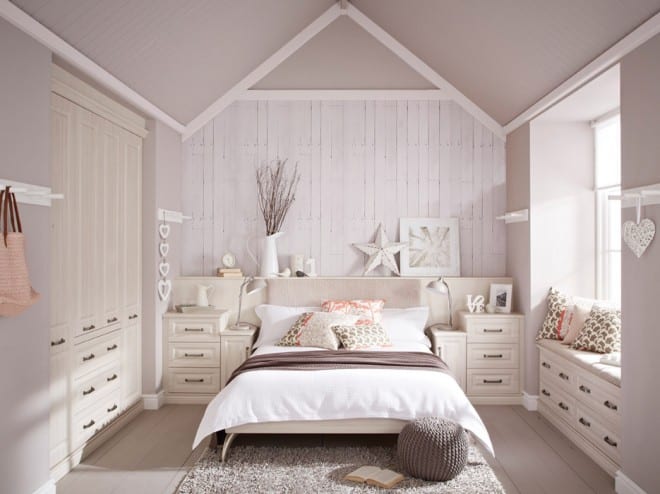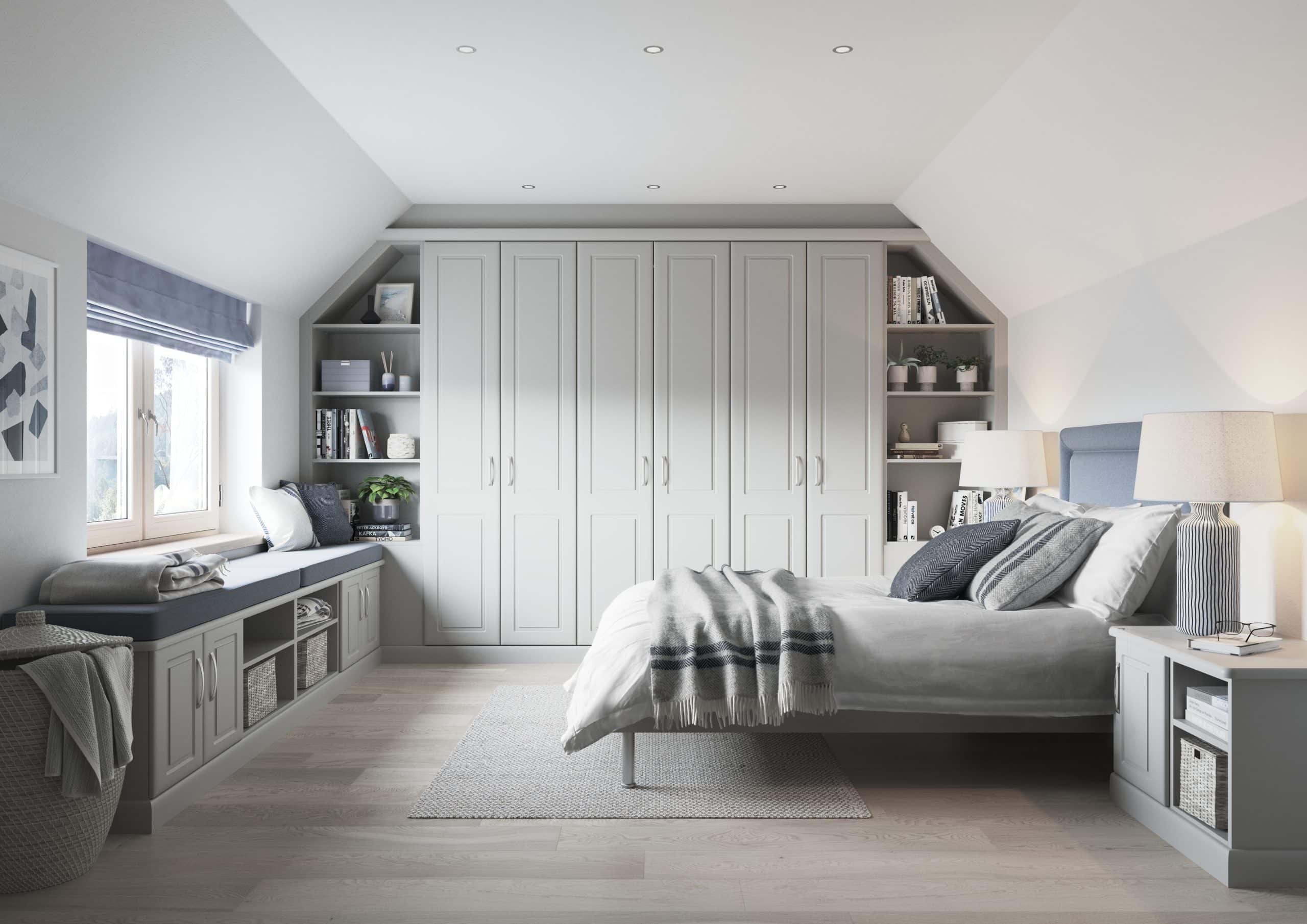 Prima Square. Sharp, clean and timeless in design this is a truly classic fitted bedroom furniture range. Angled ceilings present no problems, as with all our fitted furniture designs, this is a range that maximises the use of space to great effect.
Prefer Curves? Why not consider Prima Curved.
Subtle detailing with a choice of ten finishes Prima is beautifully simple yet elegant and versatile. Prima Curved softens any room while the mirrored doors shown here will make any bedroom feel bigger and lighter, transforming it into a place where you will want to relax, unwind and enjoy.
Don't Like Curves? Why not consider our Prima Square range of fitted bedrooms, fitted wardrobes and furniture.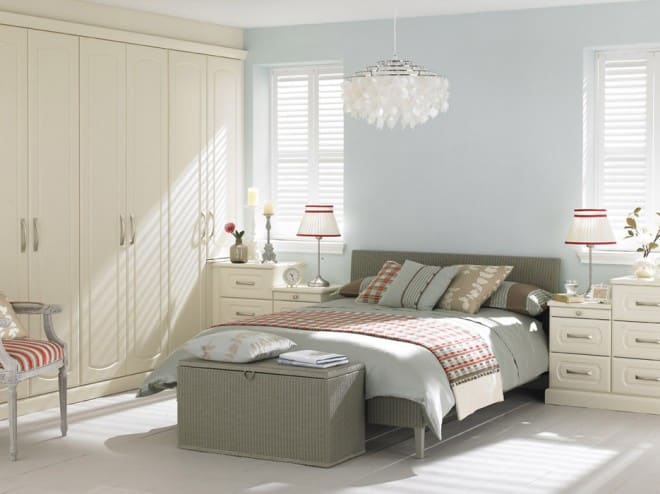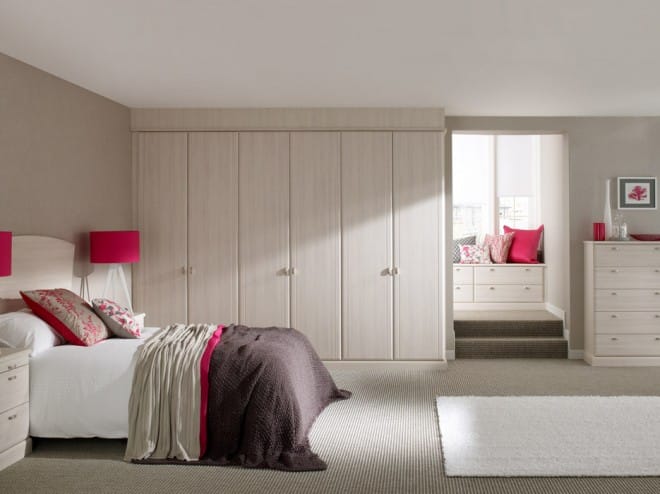 This stylish and popular fitted bedroom furniture range, available in eleven finishes, is inspired by its namesake.
Milan's refined Italian styling creates a light and relaxing environment. It's soft light finish and curved contours give a sophisticated twist on contemporary design.
Choose between mirrored, opaque glass or woodgrain doors to add your own individual touch.
Clean, Fresh and Modern – If you like airy and bright simplicity Lustro shines through. High sheen slab doors are complimented with matching cabinetry and accessories.
Available in Frost White, Cream Gloss or Cashmere Gloss, the doors and draws are completed with stylish tab handles.
Cream high sheen with rich walnut inset handles provides a warm alternative to white.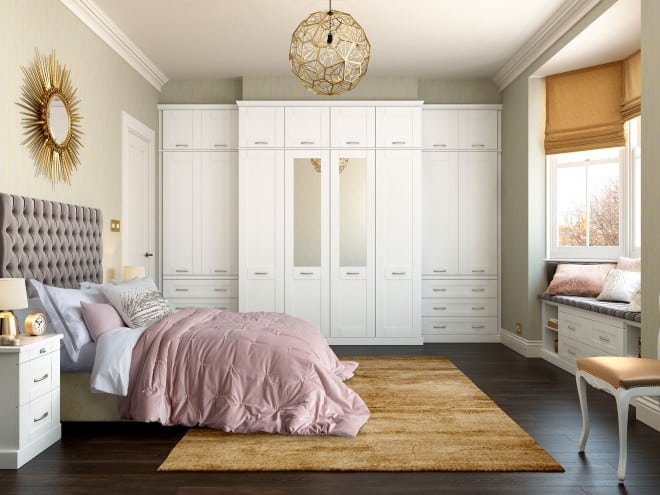 Uncluttered and refreshingly restrained, this range works on the 'less is more' principle of shaker design.
Our Kingsbury fitted bedroom furniture range, available in a number of finishes, provides an understated classical look to any bedroom design.
Whether you are looking for a traditional feel or a contemporary twist, Kingsbury has the answer.
Words that can be used to describe Solo: Simple, uncluttered, and timeless. It's a clean and versatile slab door available in a number of stylish colour options including Matt Light Grey and Matt Dust Grey. We then complete the look with a heavy brushed steel handle. All of our robe doors can be specifically tailored to any slope. This lends a bespoke feel to the bedroom and allows for maximum storage.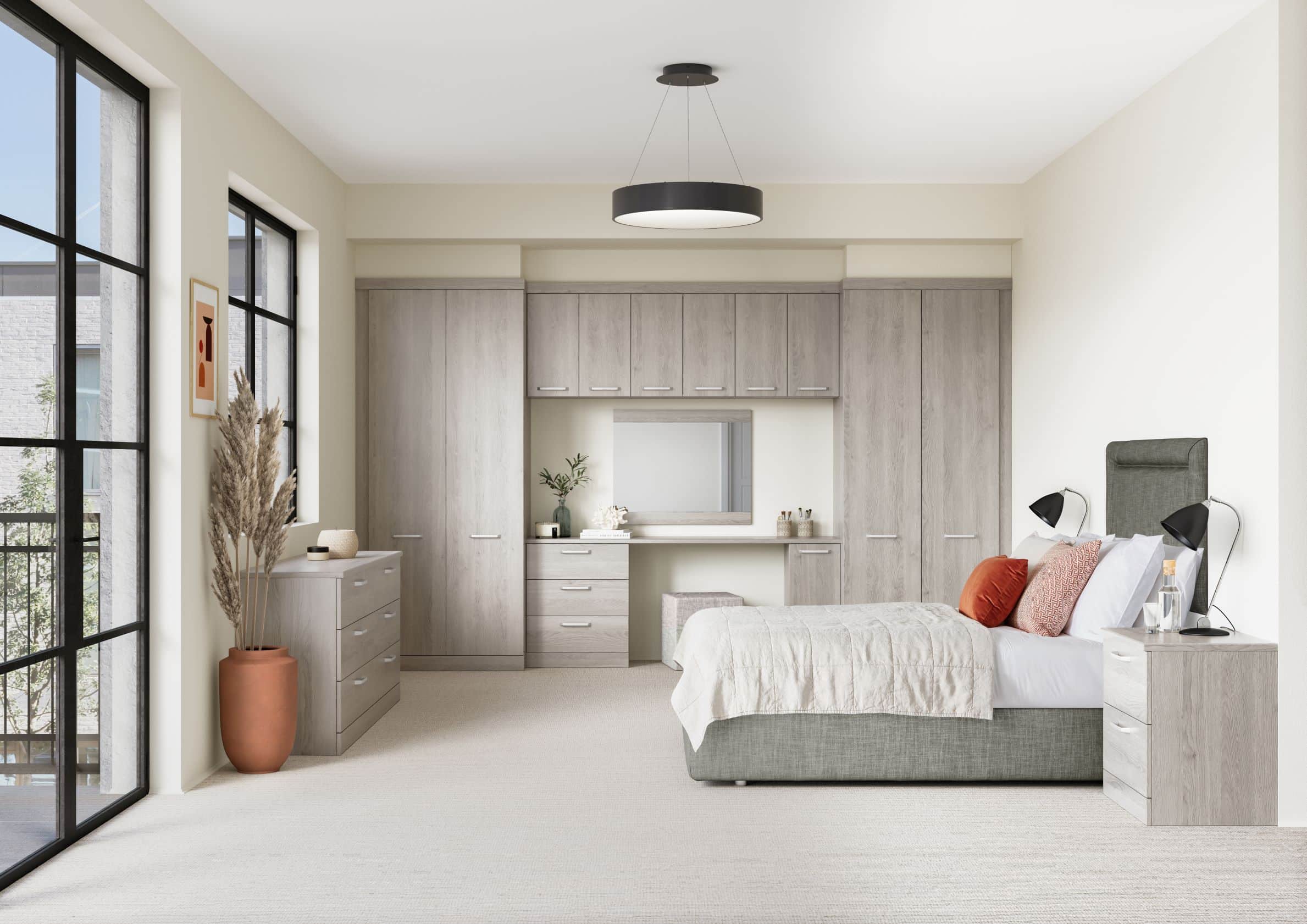 Lucerne is simple and stylish.
Available in a number of subtle tones, its luxurious painted woodgrain finish can provide a room that will allow you to relax at the end of a stressful day.
Adding an additional touch, such as a floor standing mirror, can reflect the available light and give the feel of a much larger room.
Saponetta edge detail and a smooth face give this a range a stylish and modern look.
Available in ten finishes, from ultra sleek light grey to the more traditional look of rural oak, Sienna is versatile.
The styling is completed with the addition of a distinctive bevel edged mirrored door.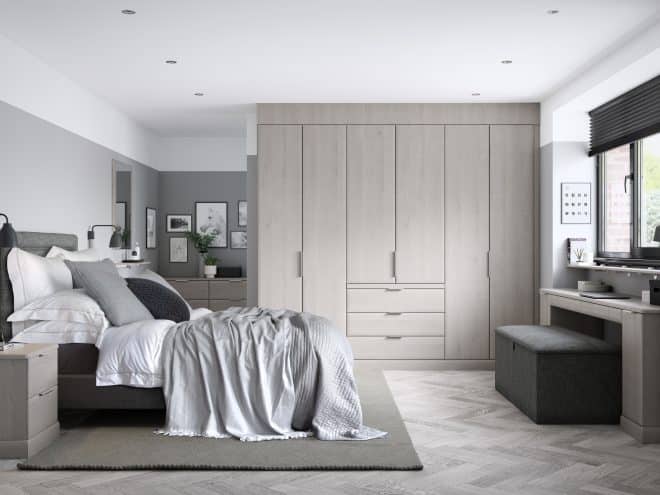 Milton is an instant Classic. An elegant and timeless shaker door style Painted in soft satin over light woodgrain and available in 12 colour options. Each of these colours can change the look of the room from the simple brightness of Soft White to a more urban and pared-down Rich Praline. The look is completed by adding either a painted or satin Nickel handle.
Let us do the

hard work

for you
We will design your room based on your needs
To discuss the design of your own hush bedrooms use the form below to get in touch and arrange your free design visit with one of our approved retailers. We will arrange for your local hush bedrooms retailer to get in touch and come to your home, at your convenience, to help you create your dream bedroom.