Find space you never knew you had
Are you looking for a new wardrobe but are fed up with traditional free-standing wardrobes taking up all the available floor space? If you want to optimise the space you have in your bedroom all whilst giving your house an added touch of luxury, look no further than our outstanding range of sliding wardrobes.
At Hush Bedrooms, we provide elegant, high-quality furniture and sliding wardrobes across Birmingham for our customers that can not be rivalled on attention to detail. Our specialist sliding wardrobe installers have vast experience and know-how to limit empty or wasted space across your bedroom. Our team create the illusion of your room appearing much bigger by utilising the area from floor to ceiling to install your sliding wardrobe.

With over a 1000 different colour combinations available for our fitted sliding wardrobes, you're bound to find something just perfect for your bedroom, whatever shape and size.

Our free of charge wardrobe design service leaves nothing to the imagination! We render your new sliding wardrobes in glorious HD in the exact range and colour you have picked.

We would never trust just anyone with your installation. All our fitters are experienced carpenters directly employed by us. They have been trained by our suppliers to ensure they know about every detail.
Take a look at our different ranges
Hush Bedrooms have a number of different sliding wardrobes available to our customers across the West Midlands. These include: 1-panel simplicity & 3-panel elegance.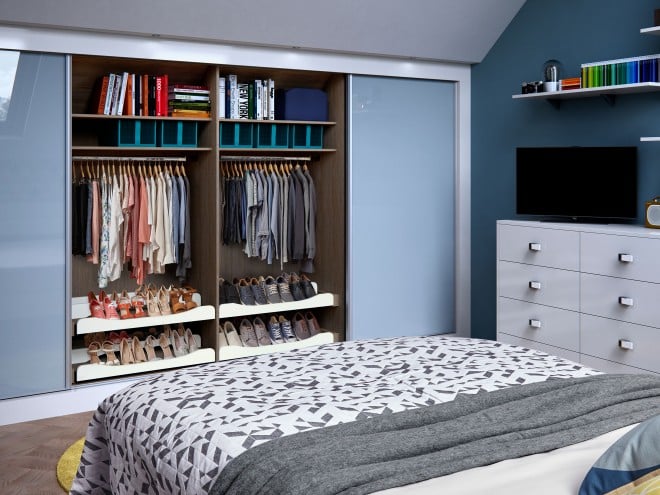 The pinnacle of the Sliding Wardrobes collection is our Moda range.
Designed to be more than fitted wardrobes, the range has matching furniture which blends seamlessly throughout your home.
Designed with a stunning wood effect frame choose from three stylish wood effect finishes our new Moda design offers ultimate versatility, why not reflect your own style by changing the centre panel – choose from a palette of matt, high sheen, mirrored finishes.
Then open the doors to reveal smart shelves, racks and drawers or even a glamorous en-suite or dressing room – the choice is yours!
3 panel sliding wardrobe doors each have three sections.
This option adds elegance and allows you a lot more options to bring colour and style to your bedroom.
With everything combining rich veneers with smoked mirrors, decadent vinyls with glass – the choice of fitted wardrobes are endless and the results dramatic.
All our doors incorporate a quality soft close action that cushions closure and eliminates slamming.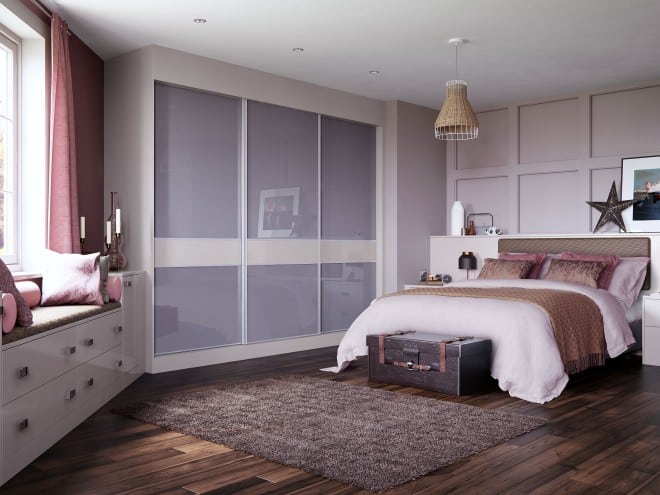 Let us do the

hard work

for you
We will design your room based on your needs
To discuss the design of your own hush bedrooms use the form below to get in touch and arrange your free design visit with one of our approved retailers. We will arrange for your local hush bedrooms retailer to get in touch and come to your home, at your convenience, to help you create your dream bedroom.